Panama Jack
Panama Jack Waterproof Gore Tex Amur Boots in Vintage
Fully waterproof Panama Jack Gore Tex Amur lace up boot in classic vintage leather.
Sturdy & robust designer boot with embossed Panama Jack side logo and tongue with matching nubuck suede padded collar.
Certified Gore Tex lining throughout with padded insole & arch support for optimal comfort during wear.
Cleated commando style rubber sole and heel. 100% made in Spain.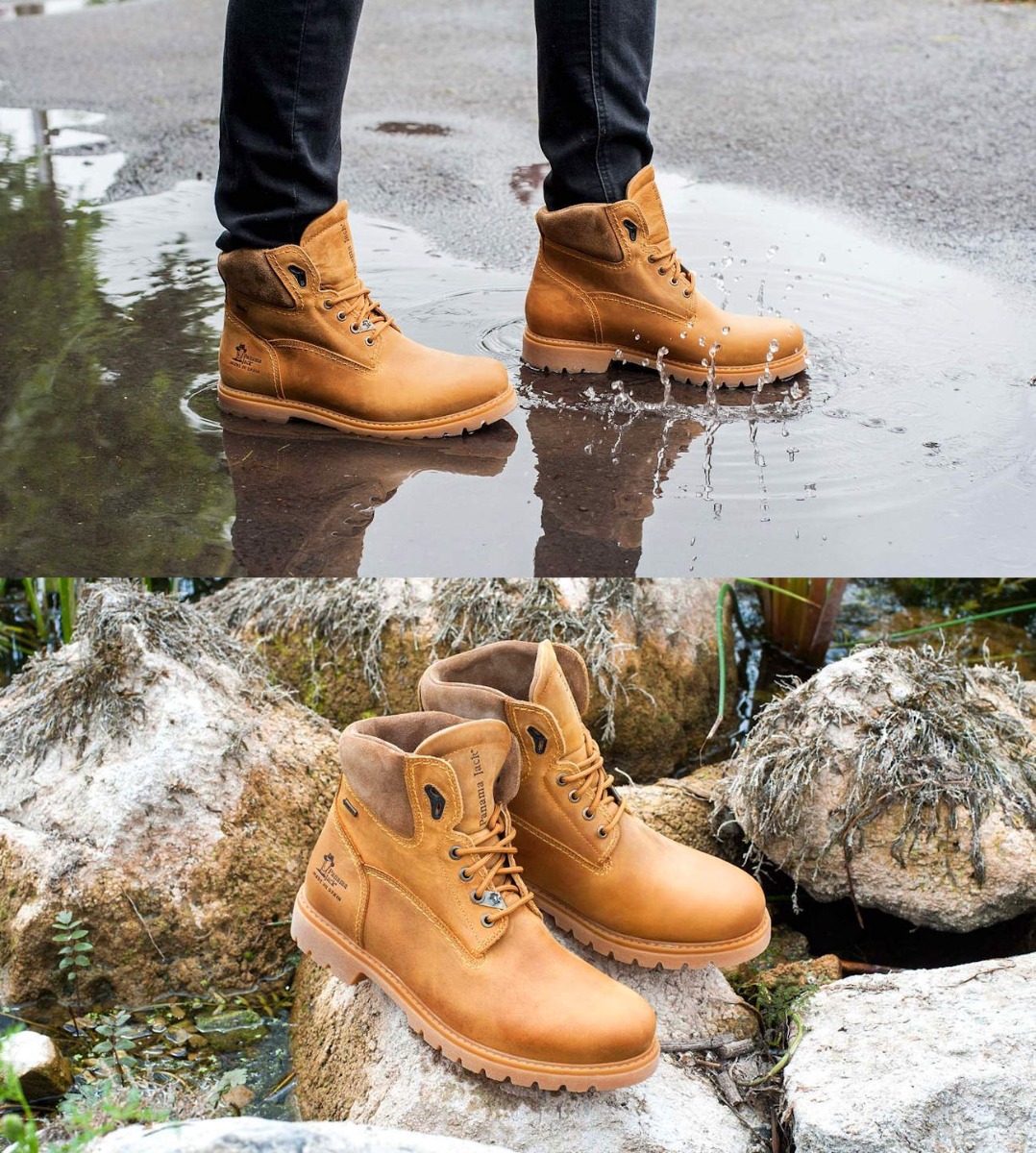 Additional description
On a cold, rainy day you need to stay dry when you have to run errands around the city or you just want to spend some time outside in the countryside. Waterproof leather boots are your best friend on such a day, as they keep your feet warm, protecting you from the cold and moisture. In cold months you need durability, efficiency and reliability, three features you find in Panama Jack Gore Tex Amur waterproof boots. Made in Spain from genuine leather, these boots offer the functionality you need on a hiking trip with the style you want to show off in urban environments. 
Panama Jack boots are made with 100% commitment, providing only the best for an active lifestyle. Established in 1974, Panama Jack works with genuine full grain leather, manufacturing high quality boots which can stand the test of time and rough weather. All their boots are made to provide the ultimate comfort during your latest adventure, be it a day at the beach, a trip in the mountains or just a busy day in town.
Panama Jack Gore Tex Amur boots are 100% waterproof, made from classic vintage leather. They can protect you from snow or rain, thanks to their high quality material. The boots feature certified Gore Tex lining throughout with padded insole and arch support to provide optimal comfort on any type of terrain. The commando style rubber sole is study and offers a perfect grip even on a slippery surface. The height of these above the ankle boots ensures you stay warm, even when you have to walk through high snow or deep water. Panama Jack Gore Tex Amur boots also offer a stylish look. Their sturdy, robust lace up design is classic and modern at the same time. The matching nubuck suede padded collar offers a modern twist to their otherwise classic look. The Panama Jack logo is embossed on the boot's tongue and on the side.
The Amur waterproof boots combine the functionality of a top outdoor gear with the classic look of a durable shoe. They are fit for a hike in the mountains, where the unpredictable elements will challenge you and your gear. Pair them with a waterproof, windproof hiking jacket and pants for an outdoor adventure and pick up your backpack to spend some days in the wilderness.
You can also invest in Panama Jack Gore Tex Amur boots for a more cosmopolitan lifestyle, as they are perfect to keep you warm and dry on a rainy day in the city. Match your classic boots with jeans and a leather jacket and you are ready to go out with your friends. Don't be afraid to create a rough outfit by matching your boots with jumpers and layered coats in different textures or fabrics.
Panama Jack Gore Tex Amur waterproof boots are more than just a pair of boots: they are the high quality trekkers you need to stay comfortable on a cold day and look stylish while doing it. They are the symbol of an active lifestyle - your lifestyle!